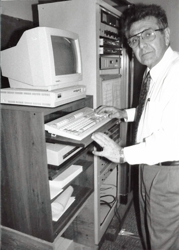 Gaylord Boyer installs equipment at the KADV radio station in the early 1980s. Located on the campus of Central Valley Christian Academy (formerly Modesto Adventist Academy) in Ceres, Calif., the new radio ministry included curriculum and on-air broadcasting experience for the academy students.
Radio stations combine to form The Promise FM
Since radio was invented, broadcasts have carried words and music on airwaves around the world — and even beyond. Through this technology, geographical and ideological barriers have been penetrated with the Word of God. Today, radio remains an integral part of fulfilling the gospel commission.
To guarantee that Adventist Christian radio continues to broadcast in California's Central Valley, two Adventist-owned radio stations have partnered in ministry: 90.5 KADV, located on the campus of Central Valley Christian Academy (CVCA) in Ceres, and 89.7 KARM, located on the Visalia church property.
"Christian radio has the ability to be a companion to folks in a very real way. In a world of chaos and conflict, having God's promises whispered in your ear through music and encouragement I think is vital," says Loren Olson, manager of The Promise FM.
From Stockton to Bakersfield, to a combined potential audience of approximately 1.2 million people, The Promise FM went on the air on Dec. 16, 2011. The first joint broadcast opened with the song "All His Promises Are True." The call signs haven't changed, and the mission of leading listeners to Jesus remains the same.
With challenges resolved and concerns satisfied, the Local Management Agreement (LMA), signed by Wayne Dunbar, KADV manager and principal of CVCA, and Olson, completed a two-year process. The LMA allows KARM to provide programming for KADV. The agreement will be re-evaluated in two years. The two stations together now make The Promise FM.
"We were at the point of either closing the station or selling it, which we didn't want to do. Allowing KARM to come in, we will be able to keep an Adventist presence in the Central Valley," Dunbar explains.
The Visionaries
In 1983, Gaylord Boyer discovered a radio station for sale. The frequency, which covered from Stockton to Merced, placed the Modesto/Ceres area in the center. Boyer, a former principal of Modesto Adventist Academy (now CVCA), passionately believed this was a God-ordained opportunity that couldn't be missed.
That he knew nothing about licensing or operating a radio station did not dissuade him. Seeking help, he invited Steve White, a religion graduate who worked at WAUS, the Andrews University radio station in Berrien Springs, Mich. "He had found his first transmitter in a garbage dump," remembers White, program director of KADV from 2001-2011.
White agreed to a one-year commitment to prepare and submit the license application to the Federal Communications Commission. The license would be owned by the academy, which would also house the station and offer curriculum and on-air broadcasting experience for students.
When KADV began broadcasting 12 hours a day in 1988, volunteers played their own records for the evening broadcasts. A series of task force workers and music from KCDS, Pacific Union College's station, helped supplement the programming. In 2001, KADV went full-time (24/7) and hired its first full-time employee.
A few years after KADV went on the air, another communication window was opening 150 miles south.
Dr. Ray Wahlen knew little about radio broadcasting. But he did understand a once-in-a-lifetime opportunity. When he learned about an available radio frequency that reached from Fresno to Bakersfield, he shared the idea of a local Adventist radio station with a few friends.
"He was a very forward thinking person," says Carolyn Lombard, a long time board member who worked for Wahlen. With resources from individuals and several churches, KARM went on the air in 1990 with one full-time employee.
Volunteers were essential to promote, support and staff the new ministry, which was housed in an addition built at the Visalia church. "Technology did not exist. Music would be shipped on reels from Pacific Union College station KCDS," Lombard adds. "We had to borrow Arbitron books from other Central Valley stations to find out how we were doing."
The Promise for the Future
The PrayerWorks feature, now found at mypromisefm.com, offers listeners a community of support. "This is one of our most important additions and is a tremendous blessing," Olsen says. In addition to live Wednesday morning prayer time, listeners can post requests, pray for others and share God's promises to encourage others, too.
"We can sell the station for quite a bit of money, but would lose the chance to have an Adventist presence in the community," says Matt Tresenriter, CVCA board chair. "I am thrilled! The Lord's timing is always perfect."
"I believe The Promise FM was led to this moment because the harvest is ready as we are nearing the end of time," adds Richard Dunn, KARM board chair. "God has really led. It has been an amazing journey."
To visit the PrayerWorks page or for more information, go to the mypromisefm.com.